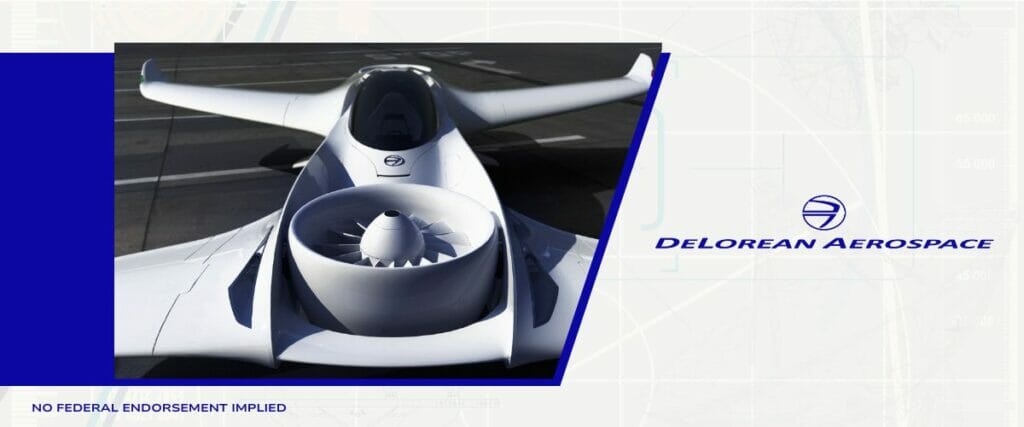 DeLorean Aerospace will unveil their cutting-edge, "flying car" technology at the upcoming Miramar Air Show September 22 – 24. This game-changing innovation promises to reshape the landscape of personal transportation. Join us inside the Innovation and Technology Expo and be one of the first people to witness the DR-7.
Who is DeLorean Aerospace?
DeLorean Aerospace aims to change the travel experience forever by enabling people to take to the skies and fly high above roadways. The company seeks to bring the exhilaration and freedom of personal air transportation to you with world-class engineering and groundbreaking innovation. Development of the flying prototype DR-7 is underway now. Their goal is to have full certification by 2027 and begin manufacturing by 2028.
What is the DR-7?
The DR-7 is an entirely electric-powered VTOL (vertical takeoff and landing) and utilizes a proprietary stabilization system to provide 3-axis control in hover, while operating as a conventional aircraft in forward flight. Similar to the F-35 military fighter, the DR-7 controls are intuitive and consistent between flight modes, with transitions between them being largely passive. Additionally, the DR-7 can transport up to two passengers. The advanced architecture provides a practical, elegant, and extremely safe alternative to conventional aircraft, with airport-free access. The range of this aircraft is 140+ miles on a single charge and can reach 100mph in cruise or over 240mph in full throttle.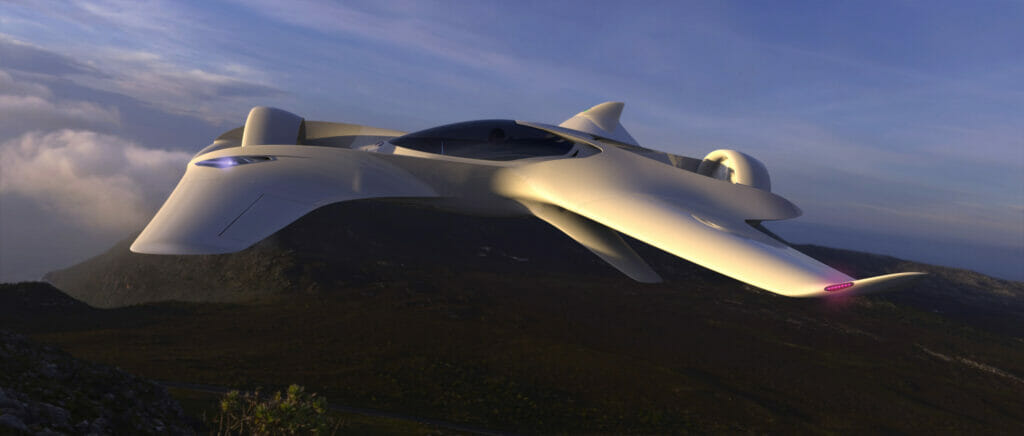 What sets the DR-7 apart from other eVTOLs?
The DR-7 is inherently safer because it includes an industry first center-line twin vectoring propulsion system, stall-resistant canard design, and multiple patent-pending features. It is intended to be the safest small aircraft ever produced. Its footprint with wings folded is nearly equal to a large SUV, and several DR-7s can take the place of a single conventional aircraft. It is mechanically far simpler than other concepts, meaning lower maintenance demands and more time in the air!
WHO WILL BE ABLE TO PURCHASE THE DR-7?
The DR-7 is set to serve a diverse range of clients. For the avid pilot, DeLorean Aerospace will be offering a limited run of 150 personal aircraft units tailored to fuel your flying passion. But that's just the beginning. In response to the surging demand for flying taxis, DeLorean Aerospace's advanced, safe, cost-effective vehicle is perfectly poised to revolutionize urban transportation. Lastly, the defense industry has shown keen interest for a compact high-speed vehicle and DeLorean Aerospace plans to pursue that opportunity, too.
Discover the DR-7: Your Passport to the Boundless Skies!
From personal aviation thrills to urban mobility solutions and defense applications, the DR-7 is your ticket to a future of limitless possibilities in the skies.
Don't miss your chance to witness history in the making! The grand unveiling of DeLorean Aerospace's pioneering flying car technology is taking place at the Innovation and Technology Expo from September 22 – 24. It's a rare opportunity to be part of a transformative moment in transportation. Join us at the Expo to witness the future of personal aviation.
Relevant Links
*No Federal Endorsement Implied