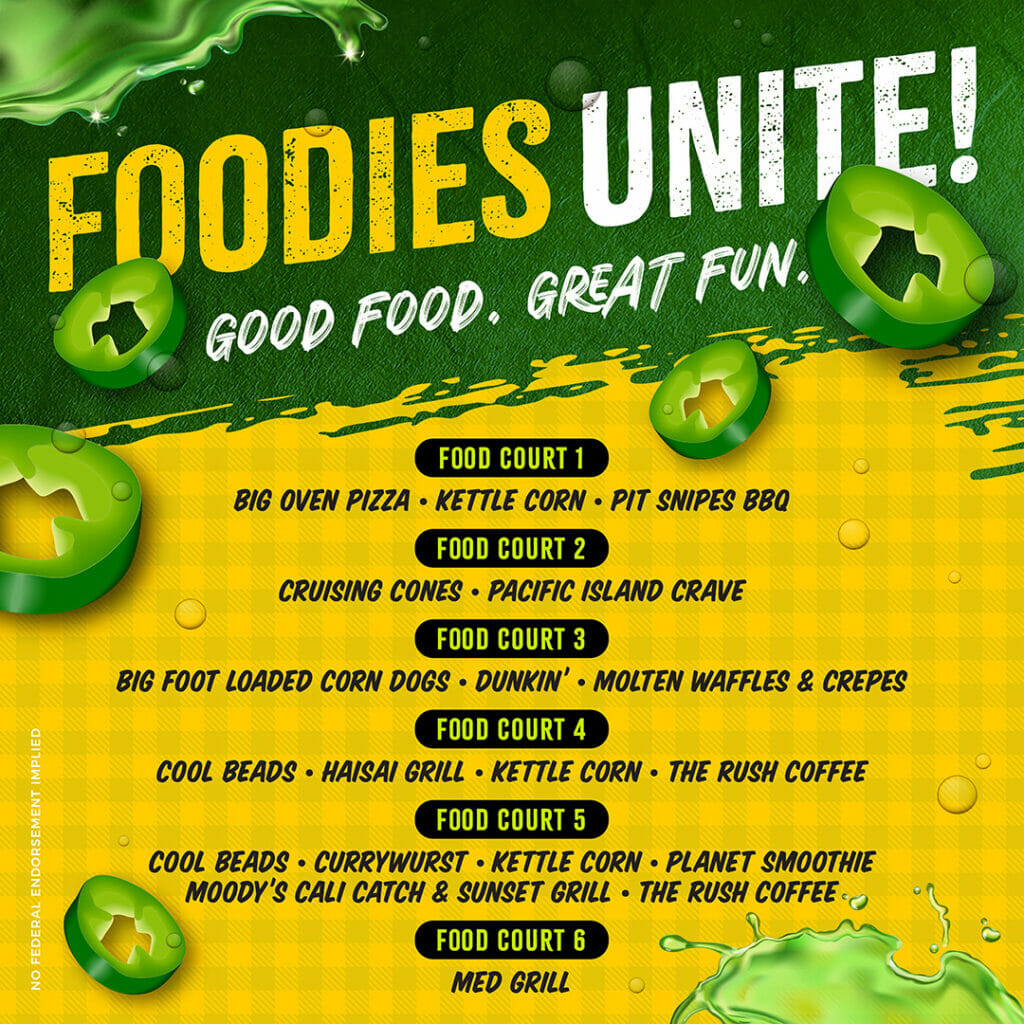 Your Taste Buds are Cleared for Take-Off
Prepare for an exhilarating experience at America's Air Show, where heart-pounding stunts and breathtaking aerial displays will work up your appetite. As you marvel at fearless pilots defying gravity with jaw-dropping maneuvers in the sky, the craving for delicious food will be inevitable. Luckily, there is a diverse range of food options to cater to everyone's needs.
Flight line Eats
Currywurst
If you're in the mood for something unique, try German and Polish-inspired cuisine from Currywurst. Crafted from handmade sausages and served with a tantalizing assortment of condiments, including freshly baked German rolls, imported sauerkraut, and grilled onions, it's a true taste of Germany that stands out amidst the thrilling air show atmosphere.
Big Oven Pizza
For pizza enthusiasts, Big Oven Pizza has you covered with a delectable selection of wood-fired pizzas catering to diverse tastes. From the classic 'Say Cheese,' a blend of mozzarella and parmesan, to the bold and flavorful 'Big Boy' featuring pepperoni and sausage, each slice is a delightful fusion of traditional favorites and creative combinations that will leave you craving more.
Mediterranean Grill
Are you seeking a flavorful twist to elevate your air show experience? Mediterranean Grill is offering classic dishes such as chicken shawarma sandwiches, savory gyros sandwiches, refreshing chicken shawarma salads, and an enticing variety of Mediterranean delights. Taste the fresh and vibrant flavors that will be brought to the air show.
Savory Sweets and Delights
The Rush Mobile Coffee Company
Quench your thirst and satisfy your taste buds with a sweet lineup of crafted delights at the air show. The Rush Mobile Coffee Company offers an array of expertly crafted coffee and beverage options, from classic brews to innovative creations like Italian Bulls. Their menu is designed to cater to every flight enthusiast, including dairy-free and sugar-free choices.
Molten Waffles & Crepes
If sweet pastries are your weakness, Molten Waffles & Crepes is your go-to spot. Their specialty waffles and crepes redefine comfort food with inventive flavors like Snickers and BananaRama. You can even unleash your creativity with build-your-own options.
Planet Smoothie
For those seeking a fresh and healthy alternative, Planet Smoothie will be serving up a selection of nutritious and delicious options, ranging from fruity delights to protein-packed power-ups. Elevate your air show experience with fresh ingredients where flavor and satisfaction collide.
Cool Beads
To beat the heat, Cool Beads has you covered with sweet, icy options. From the classic cookies and cream to tropical bliss flavors like banana split or the refreshing California Dreamin', their selection is sure to provide a sweet cooldown during the scorching intensity of the action-packed aerobatic performances of the pilots.
Other Flight line Food Options:
Don't forget to explore other delightful food options at the air show:
Big Foot Loaded Corn Dogs
JC Concessions/Kettlecorn
Dunkin
Cruising Cones
Pacific Island Crave
Haisai Okinawan Food
Moody's
Pit Snipes BBQ
Don't miss the opportunity to enjoy a wide variety of delicious foods at the air show. Whether you prefer savory classics or sweet treats, there's something for everyone. So, mark the date on your calendar and come to the air show September 22 – 24 for an adrenaline-filled experience and delicious food that will make your day even more memorable. Your taste buds will thank you!
Relevant Links